Would you believe us if we said that some of the changes that came out of the last year were actually good things? Between the COVID-19 pandemic and the rise of social and environmental issues, brands and consumers are connecting with each other like never before. And the easiest way to communicate with your customers? You guessed it—email marketing.
When the number of COVID-19 cases first started spiking, we saw a massive shift to online storefronts for businesses and online orders for consumers, and the inbox became more important than ever. With a return of $44 for every $1 spent,1 email marketing continued to be one of the most lucrative ROI channels for many businesses. But just making it to the inbox isn't enough anymore. The events of 2020 have changed the way consumers want to be marketed to: they want to know that the brand they're buying from is both empathetic and trustworthy.
We touched on how important it was for brands to start using a more empathetic tone last fall, especially around the holidays. The economy wasn't thriving and there was a need to be sensitive to everyone's differing situations. A lot of companies were still doing damage control, taking a more crisis-driven approach to their email marketing. We saw a lot of companies issuing "Letters from the CEO" as part of their strategy, mostly in the travel industry to assure customers that the necessary precautions were being taken to make travel as safe and clean as possible during COVID.
But showing empathy and connecting with your consumers on a more humane level isn't something that should be reserved for global pandemics. It can no longer always be about a hard sell of your latest product. To nurture relationships and build trust with your consumers, you have to let them know that you care about the same issues that they do. In fact, 83% of consumers say they're influenced when a brand aligns with a cause they're passionate about.2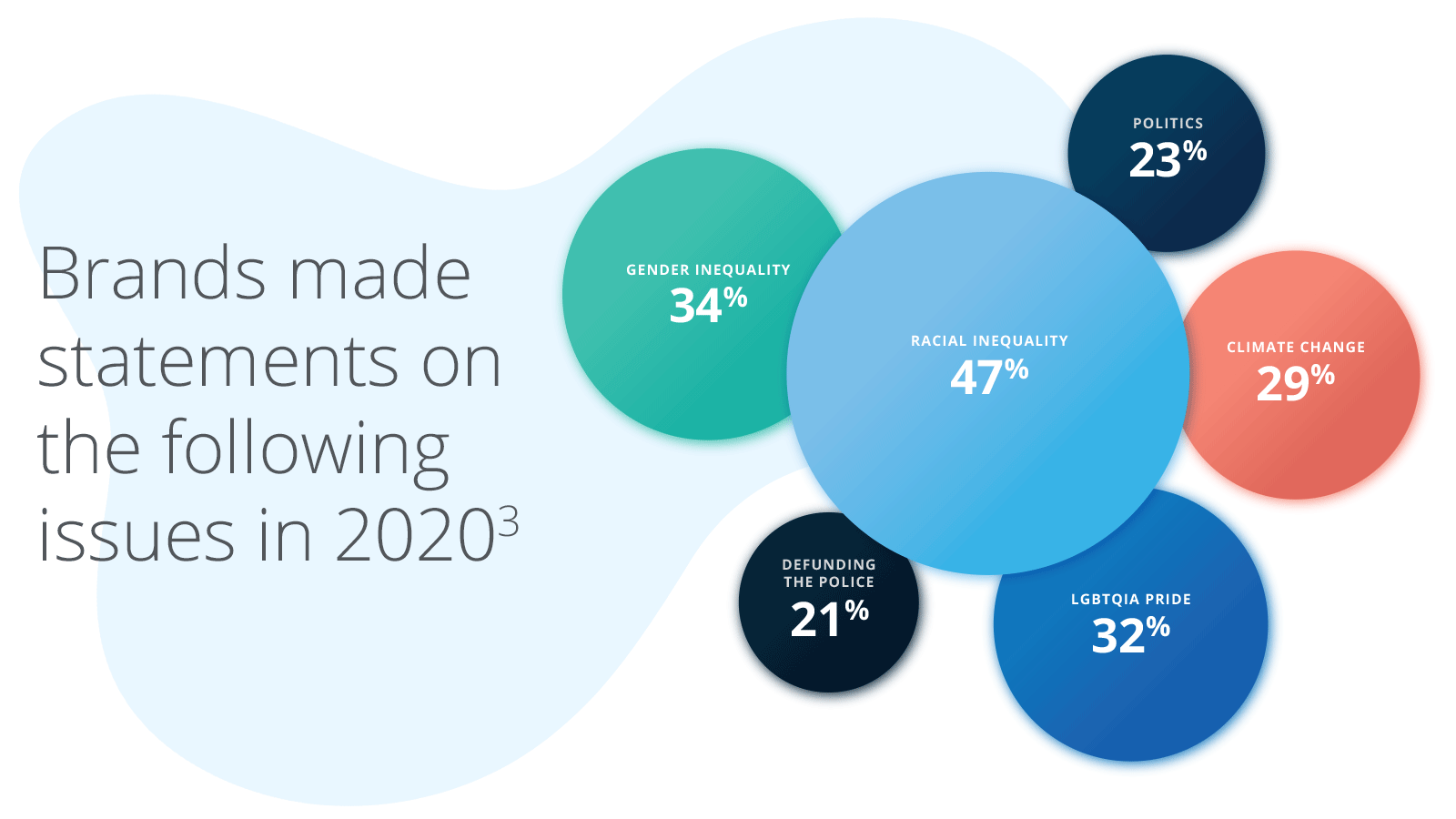 And brands show no signs of stopping their social cause initiatives—79% of companies plan to continue campaigns with messaging on one or more of these issues in 2021.3
In addition to being able to trust that you share values and you're aligned on social issues, consumers also want to know that you can be trusted with their information. They know you have their data, and they want you to use it to provide relevant content. The more personalized content your customers receive from you, the more likely they are to continue engaging with your brand and to trust that you're using their data in a positive way. Send the same one-size-fits-all email to your entire audience and risk the dreaded "unsubscribe."
We know this is all easier said than done. If you feel like you're not doing enough to nurture the relationships with your customers, you're not alone. 87% of respondents said their company felt the need to change its marketing strategies to better build consumer trust.3
Take the next step by asking us how ERGO and Smart Content™ can help your brand deliver empathetic, hyper-relevant content and build trust with your customers.
1 The Complete Email Marketing Guide for Beginners
2 5W's 2020 Consumer Culture Report
3 How Did 2020 Affect Brand Trust for B2C Marketers?