For decades marketers have been using different jargon to describe 1:1 marketing, which is the notion of speaking to each customer directly over the lifespan of the relationship. The concept is simple and straightforward, but has always been difficult to execute because of data and technology limitations. Instead, marketers used developed conventions, such as segments and personas, to break one-size-fits-all mass marketing into something more unique to their customers. And for a long time it worked.
Then came digital disruption. Virtually every single industry either has been, or is about to be, interrupted by startups that are jumping at the chance to harness individual customer behaviors, interests, and needs, then predictively anticipate what to say to each of them. Consumers who grew up digitally native may have high purchasing power, but they also have high expectations and prefer to spend their money with brands that deliver superior digital experiences.
Email: The Workhorse of Digital
Despite how uncool it is to admit, more 12–17-year-olds use email than either Snapchat or Facebook, according to Forrester. If you think about it, email is the only viable outbound digital channel that exists. SMS marketing is intrusive, in-app messaging does not scale because most people turn off their push notifications, and unless you're a brand sliding into your customers' DMs, social is a many-to-many ethos. And big changes are on the way: With Google and Apple investing in Amp for email, emails can now behave like an app right in the inbox.
Big changes are on the way: With Google and Apple investing in Amp for email, emails can now behave like an app right in the inbox.
But, to be sure, the email channel is undergoing enormous transformation thanks to Big Data. Because the cost of storing and processing data has drastically decreased, enterprises have begun to access and merge large databases that have historically been siloed. This unearths enormous opportunities for individualized marketing.
In their attempt to leverage this data to deliver humanlike customer experiences, these enterprises have turned to marketing automation solutions. This triggers email messages based on an action you may or may not have taken, such as a flight search, the dog food you placed in your online cart but forgot to order, or the birthday info you shared when you signed up with a brand in the first place.
While this is moving in the right direction, it's a far cry from an authentic relevant customer experience. Because this type of marketing is based on single moments in time and singular data points, it can seem mechanical and leave customers with that "you don't know me" feeling. We see an equally poor customer experience frequently in paid media, when display ads stalk you with the shoes you just purchased rather than showing you the belt that might match.
Think about it: How would you feel if you got home every night and your significant other said, "Good evening, David," and then proceeded to tell you specific but obvious things like, "We live at 952 Second Avenue," or, "Today is Monday"? It would not strengthen your relationship. Yet many marketing emails do just that. The time, effort and money wasted on superficial personalization often creates a negative customer experience.
By contrast, truly relevant customer experiences depend on the evolving picture of each customer across multiple behaviors and interactions over time as their mindsets change.
Enter ERGO, a next-generation marketing automation solution provider that prioritizes what goes inside the email over when the email gets delivered. The New York City–based firm is reimagining marketing automation as we know it—with content-rich storytelling designed to fully activate a brand experience for each customer rather than just delivering a message.
We have turned email into an always-on channel.
"We have turned email into an always-on channel to authentically deepen the customer experience. Our Smart Content narrates individualized stories that truly speak to customers and strengthen their bond with a brand. Over time, these relevant stories enrich the customer experience, creating tangible value that becomes part of the product or service creating a new level of brand engagement," says John Hendricks, founder and CEO of ERGO.
To illustrate what an ERGO-engineered email looks like, Hendricks cites the example of a billion dollar pet supply company. "Say a family owns an eight-year-old Golden Retriever, a two-year-old Calico cat, and a Betta fish and lives in a rural area. We can tailor that household's email content to inform them each month about the ongoing and evolving care for each pet, throughout their respective life stages. This can range from nutrition needs, vaccinations, medications, and toys. This specificity can move the revenue needle in a very significant way by constantly delivering information that drives more frequent purchases, and long-term loyalty, rather than constantly attempting to sell single products."
Unfortunately, this level of customization cannot be executed at scale at the "page level," which is the HTML shell of the email itself. But it can be done at the content module level inside the email.
That's what ERGO's Smart Content is all about: putting the entire focus on the content inside an email. This allows the marketer to fully customize the email so that it can predictively adapt the content of every message.
This level of customization…it can be done at the content module level inside the email.
Rather than flooding inboxes with one-off emails and triggering independent "gotcha" emails, ERGO's research repeatedly shows that consumers express a strong preference for fewer, regularly scheduled emails with Smart Content. This approach not only improves the experience, but also reduces both tune-outs and opt-outs.
Traditional first-generation marketing automation supports simple branch-logic to determine when to send an entire email, which is rarely relevant, and certainly nowhere near as personalized. In the process of neglecting the importance of what's inside those emails, marketers are often leaving enormous amounts of revenue on the table.
Focusing on a single HTML shell with modular content inside allows marketers to finally scale true 1:1. Imagine one-off emails as small cars. Multiple cars create unnecessary traffic in the inbox and have limited seating. Now imagine a bus: A bus has many seats and can hold a wide range of people. Our single HTML email is the bus, and Smart Content represents the people occupying the seats. Just as it's more efficient to buy a bus ticket than a whole car for a single trip, it's more efficient to create a single content module than an entire email for each message.
And you don't have to put content in every seat on the bus. Some customers may have only one or two Smart Content modules in a given month, while others may have five or six. "This content gets algorithmically triggered into the HTML email (aka the "bus") based on longitudinal customer profiles. "That's Smart Content," says Hendricks, "and we see it driving 5X engagement and hundreds of millions of dollars in incremental revenue."
The Flagship Platform: MindReader™
Smart Content, the lifeblood of every ERGO-executed email, gets generated by ERGO. It allows businesses to plan and manage all their email content and analytics through one platform. With MindReader, a marketer can create a Smart Content module for deployment and then understand its performance over time so that it can be continually optimized for future use. Also, brands can deeply understand their audiences based on behavior and interactions, and centralize the content and taxonomies across all their campaigns to enable global performance tracking.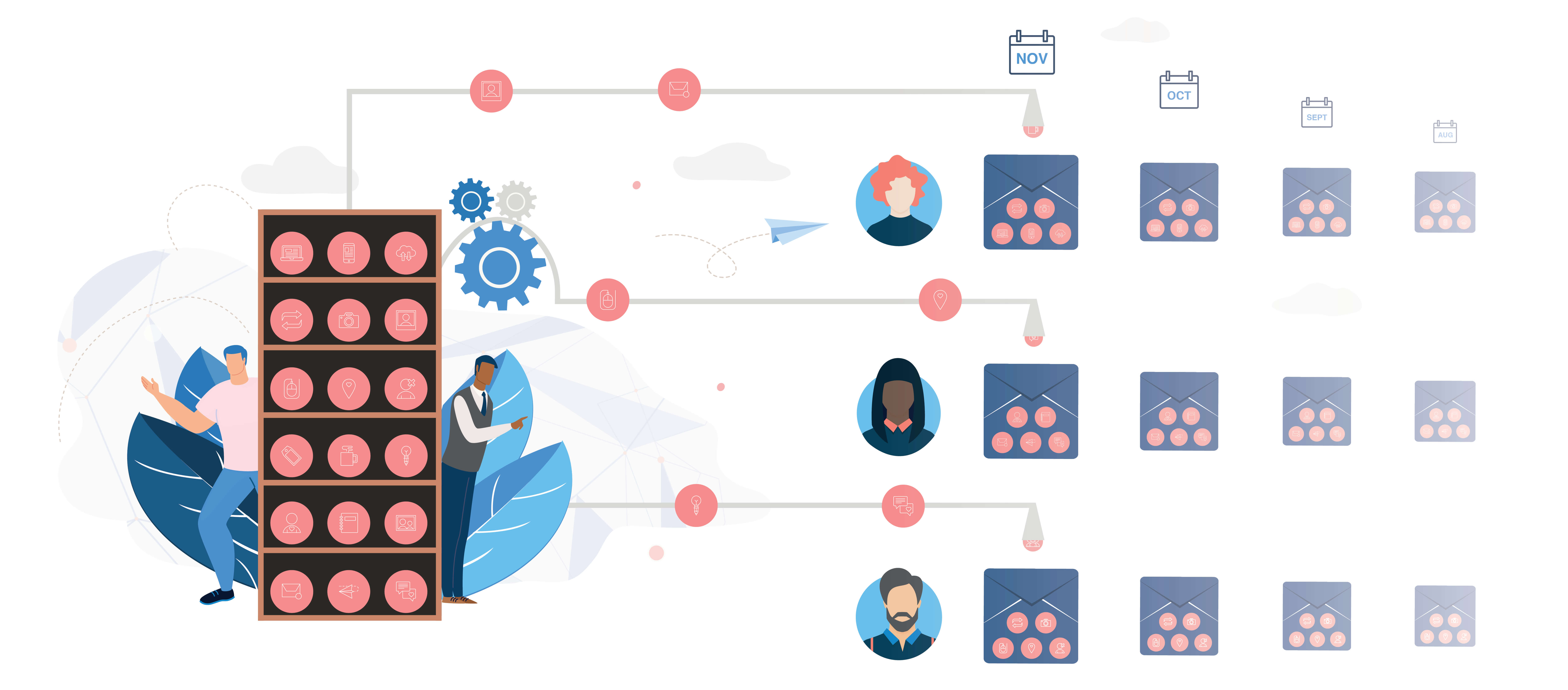 The MindReader platform has three fundamental components: a "super" CMS with modular-level analytical capabilities, an AI-powered rules engine, and an API layer. This API layer allows it to integrate with other ESPs and technology providers such as Salesforce and Movable Ink, because each has different but highly synergistic capabilities when integrated with MindReader.
At its core MindReader acts as middleware, developing longitudinal intelligence on customers based on every interaction and transaction with a given brand. "The client identifies the people to whom they want to market, and MindReader determines the best Smart Content for each person, then programs the logic for deployment." In addressing the data side, Hendricks goes on to say, "While we're working at a customer level, we only accept anonymized data because we are not a database-hosting company. We only want enough data to score and algorithmically target Smart Content."
Before deploying MindReader on a client system, ERGO maps out a data model and performs structured machine learning analysis and cluster analysis. John concludes with, "This is our process to identify the most relevant elements that can predict customer behavior and accordingly create Smart Content modules."
Dive into Data Lakes, Tear Down Silos
"1:1 marketing has never happened at scale, and that's not due to failure of imagination. It's due to a failure of execution," Hendricks asserts.
In the past, marketers found it virtually impossible to access their own data because of things like disparate data environments, incompatible data structure, database languages, formats, schemas, syntax, and database managers.
However, Big Data technology has made it possible to "deep dive into the data lakes" and break down the silos. While MindReader is cloud-based and simple to use, ERGO has found that most clients rely on their professional services for data retrieval, hygiene and mapping, content strategy, content creation, development, optimization, and production management, allowing marketers to get out of the weeds and focus on the actual marketing.
An Environment to Cultivate New Ideas
ERGO operates out of an industrial-style studio space in Greenwich Village, NY; a relaxed but extremely fast-paced working environment. The office is loaded with whiteboard walls where the sounds of billiards and friendly dogs can be heard in Agile meeting Scrums.
Instead of having 10 fixed data attributes built into a drop-down menu somewhere, our offering is constantly mining for hundreds of data attributes.
Their work culture is a reflection of their innovative approach, viewing everything as crawl-walk-run, and piloting with MVP initiatives before validating, rejecting, reworking and scaling.
This agility is in stark contrast compared to the other prominent solution providers. "What sets us apart from traditional marketing automation vendors and system integrators is that our methodology is designed for continuous innovation versus stability. Instead of having 10 fixed data attributes built into a drop-down menu somewhere, our offering is constantly mining for hundreds of data attributes," explains Hendricks.
This innovation brings a significant competitive advantage to a channel that often helps drive up to one third of a brand's total revenue.
Going forward, ERGO has a few specific goals: to strengthen its technology partnerships and deepen integrations with Salesforce and Movable Ink, and to scale its business across travel, lifestyle, retail, media, automotive, B2B and financial service brands that require customers' consideration before opening their wallets. But, Hendricks emphatically states, "We will not take on a project unless we can drive meaningful revenue for a client and the client is comfortable embracing continuous innovation."
Original interview and article published in Marketing Tech Outlook Magazine, November 2019.