Let's Get Personal
In today's 1:1 economy, consumers expect a certain level of personalization in their emails—more than just their name in the subject line or headline—and if you want to reach them, achieving that level of personalization is crucial.
Stand Out From The Crowd
While the one-size-fits-all email may be more efficient on the production end, it's not going to help you stand out in a crowded inbox. In 2019, the average person received 121 business emails in just one day.1 And nearly half of opens occur on mobile devices,2 likely when the reader is commuting or multitasking. This means you're not only competing with more emails than ever before, but you're doing it while your customer isn't even fully paying attention.
A Few Ways to Add a Personal Touch
Enter email personalization. Today's consumers crave relevance—they want to feel seen as an individual, not just as a potential sale—and they likely won't give you the time of day if you're not providing them with useful information personalized to them.
Don't Sleep on Subject Lines
While you won't be able to hang your hat on just adding in the recipient's name, email subject lines that are personalized generate an average of 50% higher open rates,3 so it's a good place to start.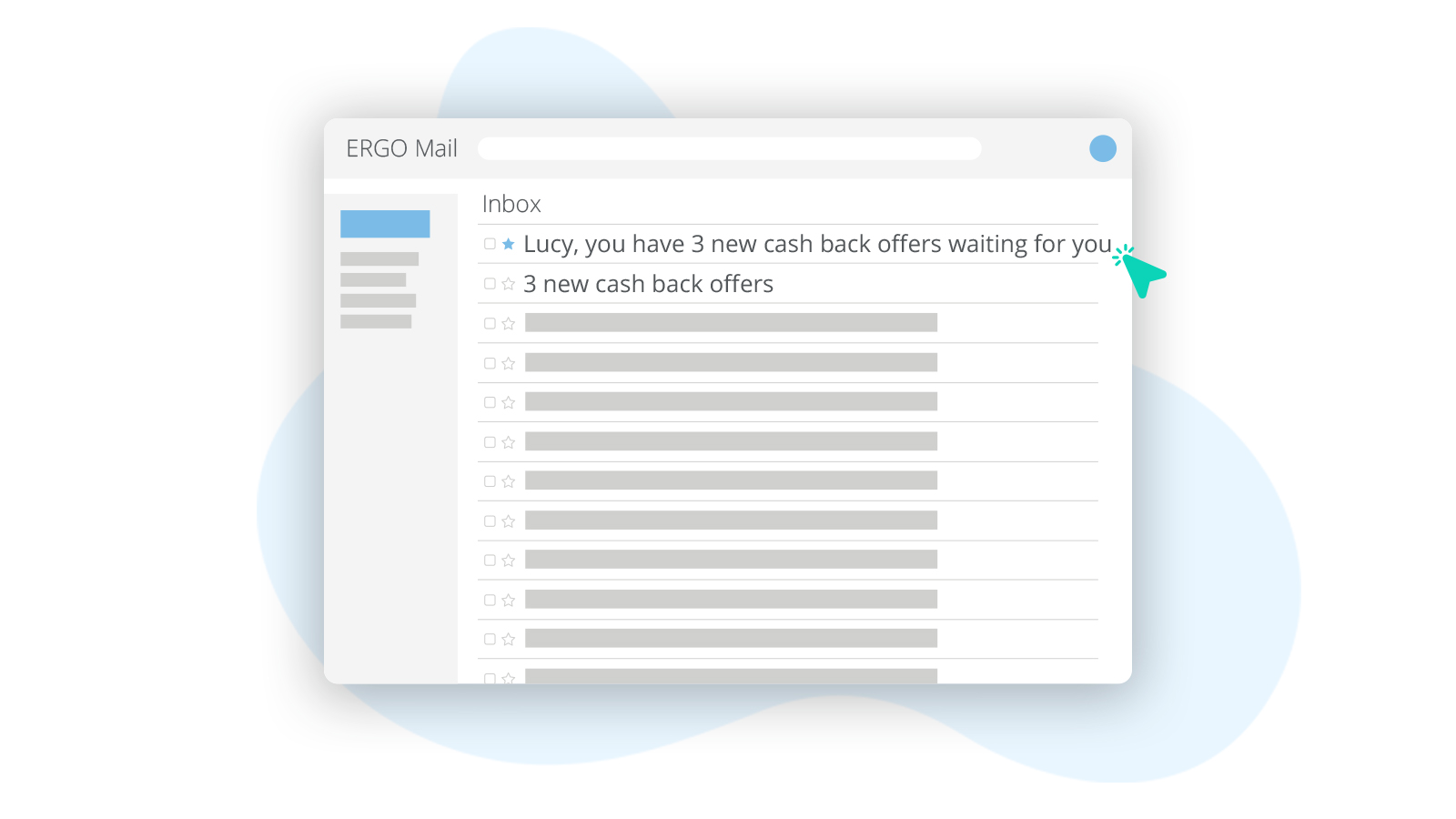 Put Your Calls-to-Action to Work
A call-to-action that takes into account a customer's behavior or knowledge converts 202% better than using default language.4 For example, you could base your CTA on whether or not your customer is enrolled in your brand's rewards program in an effort to drive conversions. If they're not enrolled, target that specific customer with "Enroll Now" language and click out to the enrollment page. Not only is this more straightforward than "Learn More," but you're showing your customer that you know them and you're providing them with information that is useful to them in their specific stage in the journey.
Look Inward
We know that in today's 1:1 economy, customers are not waiting around for a triggered email. Rather than wasting your precious resources on when you send your emails, focus your efforts on making the inside of each email radically relevant. Instead of telling a customer what they just did (buying a pair of shoes), harness your data to predict and curate what they should do next (buying the hat and belt that go with the shoes).
Relationship Building
It's this level of relevance and usefulness that helps to build the trust between your brand and your customer. The more relevant information your customer receives from you, the more likely they are to continue opening your emails and engaging with your content. If you repeatedly send out emails without any pertinent information, your customers are going to begin deleting them without ever opening them—or worse, unsubscribing completely. Building trust is key, and personalization is the path to gaining that trust.
Need help? ERGO's Smart Content™ offers solutions for hyper-personalized, hyper-relevant emails by sending them out based on consumer behaviors and data. ERGO will help you create a full, totally personalized email—a true 1:1 experience that can be executed at scale. In a world where personalized messages increase click-through rates by 14%, and conversions by 10%,5 you can't afford to ignore this trend.
To see how ERGO can help your emails shine, click here.
1 Campaign Monitor
2 Hubspot, Email Marketing Stats
3 Oberlo
4 Hubspot, Personalized CTAs
5 Campaign Monitor, Email Marketing Facts